HOW CUSTOMERS USE LASER TECHNOLOGY TO COMBAT COVID-19
The COVID-19 crisis has placed intense pressure on companies as we strive to maintain (and potentially future-proof) bottom-line revenue amidst possible shutdowns, corporate mandates, and operational changes. As the pandemic is teaching us, unique challenges require unique solutions as well as pivoting where required. At Kern Lasers, we're always impressed with the work our customers do and appreciate where our efforts help them achieve theirs. Now, more than ever, we're in awe and proud of the work our customers are conducting to combat the effects of COVID-19 and its far-reaching implications within industries and the economy alike.
Here are some of those stories of impact and versatility.
Ben VandenWymelenberg is the founder and CEO of WOODCHUCK USA, a Minneapolis, MN-based custom wood production company specializing in truly unique gifts. As Minnesota entered the shelter in place mandate from Governor Walz's Stay Home order, Ben entered his company into a new production territory.
Originally, WOODCHUCK USA shifted half of its production to face shields for medical staff members and personnel, developing a prototype within 24 hours of the decision. As word spread and obvious need grew, Ben and team shifted 100 percent of its production to that of face shields, cranking out 45,000 a day at first, and ramping up to 105,000 units per day now. Ben said their team recognized the "extra, extra high demand" for PPE across the U.S. and made the unanimous choice to support the cause. He explained that the face shields are compliant with N95 masks and are produced at John Hopkins' standards. The face shields essentially elongate the lifespan of N95 masks worn by medical professionals on the frontlines of this crisis.

On the company website, Ben writes, "As an entrepreneur, you get used to the daily intensity of ever-changing situations and opportunities to grow. The opportunity to go against the beaten path, venture out, experience something new, and forge a new road. Over the past few weeks, we have all experienced an exponential amount of change. A change in the global markets, a change in our national procedure and benefits, a change in our state policy, likely a change in our employment, and a change in our homes and family life. Myself and my entire team here at WOODCHUCK USA are standing by and ready to help in whatever way possible."
Order Face Shields from WOODCHUCK USA
Watch Ben's Video via LinkedIn
Kudos, Ben and the entire team at WOODCHUCK USA. As part of your mission statement reads, your passion is to be a daily reminder of our planet's vulnerability … it's not about you, it's about your planet and how you can make a difference now.
I'd say you're doing just that.
LCI is a full-service sign and point-of-purchase display house located in Milwaukee, WI.  For nearly 30 years, LCI has served the industry to design and manufacture signs and displays, while also offering laser cutting and laser engraving services with secondary operations. Now, for perhaps the first time ever, Laser Cutting, INC. has turned its capabilities to that of the growing PPE shortage in a time of global pandemic.
John McMillan is the sales manager at LCI and shared, "We have 10 lasers for short lead times and make protective barriers, face masks, and other custom parts. Our lasers can cut most non-metal substrates, and we are making essential parts for fighting the Coronavirus."
Inquire About LCI for PPE Needs
We appreciate your service, John and team, and applaud your efforts!
Faulkner Plastics is a family-owned and operated plastic distribution and fabrication company celebrating its 50th year in business. Based in Hialeah, FL near Miami, Faulkner Plastic is a source for all types of plastic custom fabrications for retail, wholesale, and export. Though Faulkner has decades of experience, the company hadn't produced any medical equipment, but the coronavirus changed all that.
Responding to local fire and rescue and first responders in Hialeah facing a shortage of PPE and safety equipment, Faulkner Plastics quickly flipped production to plastic face masks. Joseph McCabe, VP of Faulkner said, "we're operating 24 hours a day now to make these face masks."
Mask orders came in rapidly and the first batches were in the hands of first responders and emergency personnel by March 26th. In addition to the City of Hialeah, Faulkner also collaborated with Lawrence Franchetti, CEO of One Beat Medical in Miramar, FL, a business that distributes medical supplies. After learning about the new equipment Faulkner Plastics is creating, he reached out to the company to help get the equipment in the right hands. He told 7 News Miami, "We are able to work with them to protect our first responders out there."
Because Faulkner Plastics has been successful in making these face masks during the upheaval of normal business, they're currently looking at different organizations across South Florida to determine who they can help during this pandemic.
Order Face Masks from Faulkner Plastics
Watch News Story via 7 News Miami
Way to go, Joseph and Faulkner Plastics crew. Florida is lucky to have you.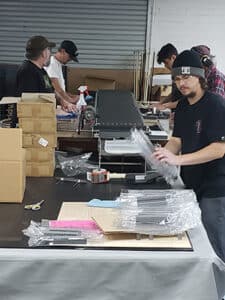 Based in Glendale, AZ, Clear Image, Inc. has been manufacturing lucite embedments for over 30 years. As one of only a few embedments producing manufacturers in the world, Clear Image, Inc. offers in-house casting, printing, silk screening, lasering, fabrication, design, artwork, and now, USA Splash Guard a new line of business dedicated to the COVID-19 crisis.
When the shortage of PPE products started being reported by the media, the company's first thought was, how could we help and how do we keep our staff working through this? The answer became obvious: face shields.
They purchased the necessary materials, and found an inexpensive conveyor that was refitted and motorized to accelerate the bagging, boxing, and shipping process. In a matter of days Clear Image, Inc.'s went full throttle into manufacturing face shields. The team at Clear Image, Inc. is now in the process of bringing on a second shift to help fill the shortage of PPE's.
"I'm so proud of the way our staff has responded to this change in direction" said Greg Smith, owner of Clear Image, Inc. "My creative team is working on the assembly line right alongside our shop and management team. This is a true case of American ingenuity and USA manufacturing at it's finest. The worst of times does bring out the best of people. I wish everyone in the country could get a glimpse of our day to day operations… it would give them hope."
Order Face Shields from USA Splash Guard
Keep up the good work.
Excel Plastics has three locations — two in Minneapolis and one in Fergus Falls, MN. Currently undergoing marketing initiatives including a rebrand as Excel the company also shifted its production from typical custom point of purchase (POP) for visual merchandising in retail settings to PPE capabilities. The company had a team meeting to determine how they could keep their business running as essential to ensure employee welfare while also serving a need for the community. That led Excel to produce plastic face shields from a prototype, resulting in the first batch of 4,ooo units created for Lake Region Healthcare in Fergus Falls.
Craig Koefod is Excel's COO and told Otter Tail Lakes Country, "As a local family-owned business, we pride ourselves not only on making great products but also in the way we care for our employees and our community. We are privileged to help in any way we can," Koefod said.
Because of Excel's specialty in plastic, the company is also considering other products that can aid in the safety and protection of individuals during the pandemic, including sneeze guards or other plastic installations to be used in public settings, like grocery stores and other essential businesses.
Watch Excel Plastics Story via Otter Tail Lakes Country
Craig and everyone across the Excel brand, thank you for serving your communities so well.