Economical Large Format Laser Cutter and Engraver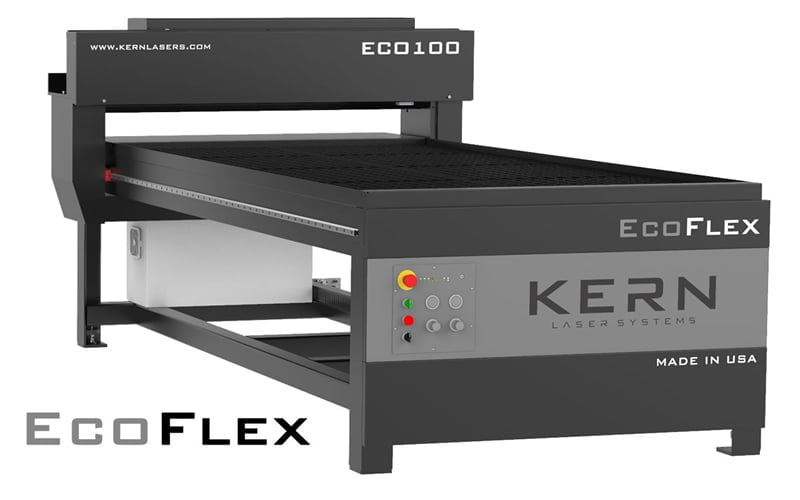 The Ecoflex Laser System Is Kern's Entry-level Large Format Model.
Kern's team re-engineered our previous generation HSE machine, standardizing many components and saving costs all without sacrificing quality. Many of the high-quality components used on our high-performance line are also used on the EcoFlex, including the laser, power supplies, vacuum blowers and computer system. These efforts have paid off big for our customers as we launch this new workhorse laser system designed for non-metal cutting applications.
Laser Classification: Class 4 CO2 Laser
Laser Wattage: 100 – 300 watts
*Positioning Accuracy: +/- 0.002″/ft
Repeatability: +/- 0.0005″/ft
Work Area*: 52″ x 50″ – 52″ x 100″
Footprint (W x L x H): 74″ x 87″ x 53″ – 74″ x 137″ x 53″
**Part Clearance: 3″
Electrical: 230v/1ph
*Mapped Table under controlled conditions
**Custom gantry heights by request.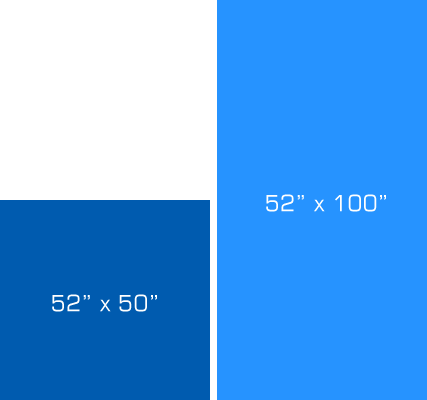 EcoFlex is the redesigned CO2 Laser System
Made for cutting and engraving, this economically priced system is great for a company that needs a large-format laser to increase volume and large productions runs.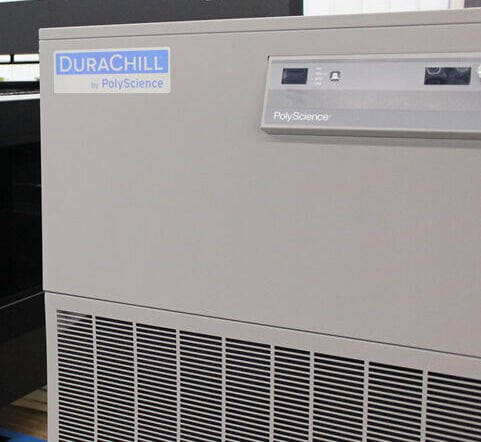 Closed-Loop Chiller
A closed-loop chilling unit properly cools the laser source, ensuring a long laser lifetime and consistent cutting and engraving results.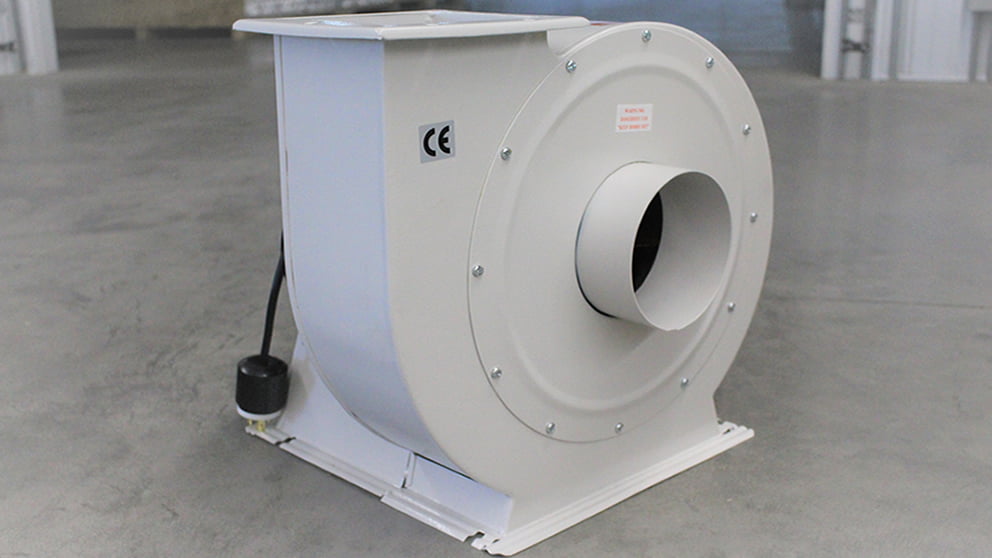 Vacuum & Fume Exhaust
A blower package will remove fumes and small debris created during laser processing. An integrated downdraft table holds material flat on the table.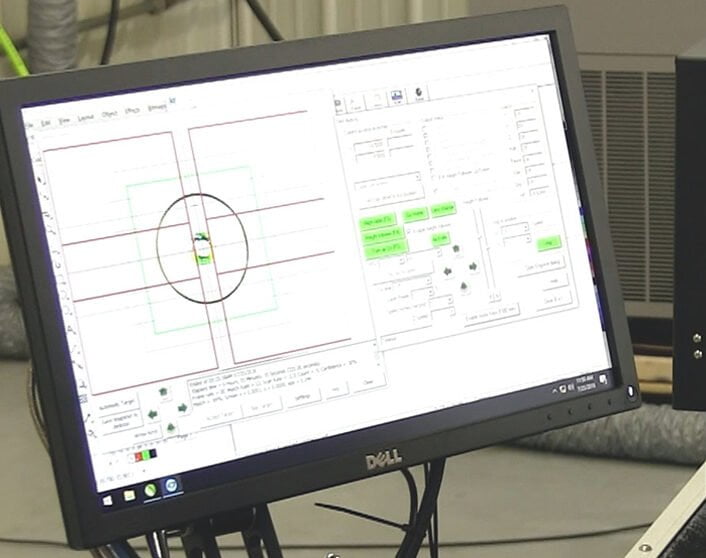 Computer Package
A high-performance computer and monitor is included with each system. An adjustable monitor arm is installed at the front corner of the machine.
Software Package
KCAM Laser Software and CorelDRAW Graphics Suite are linked together allowing over 100 file types to be used, including .DXF, .PDF and G-CODE.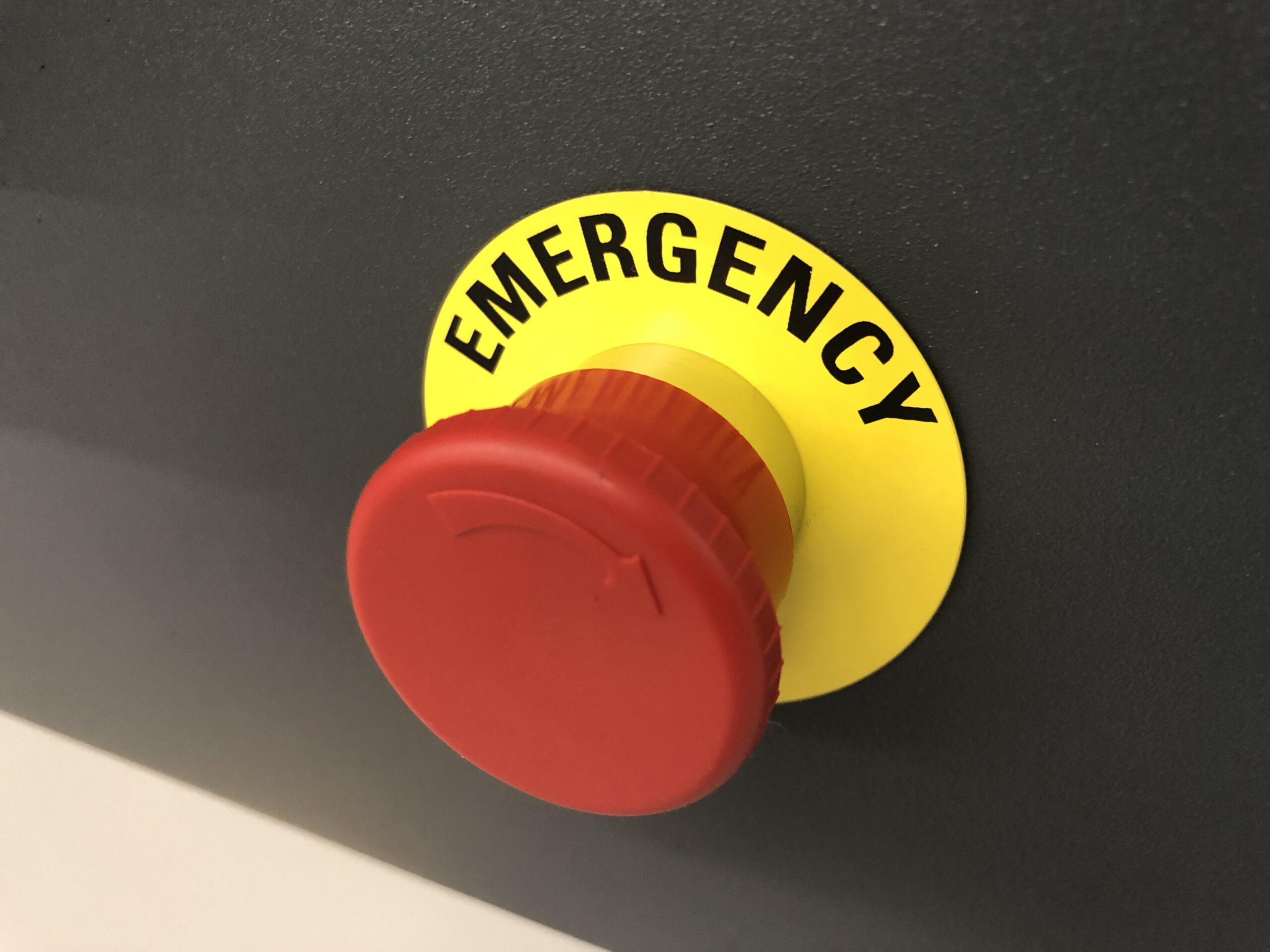 Safety Features
CDRH laser machinery compliance is ensured with emergency stop buttons, safety labeling, interlocked access points and a 5 second delay safety key switch.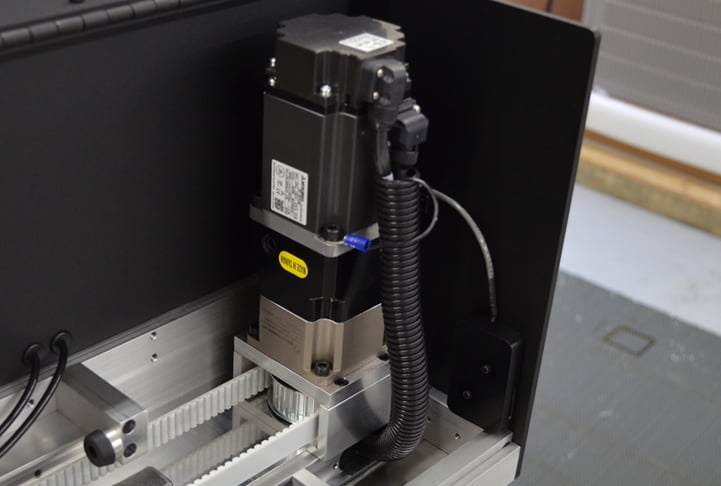 Servo Motors
High-speed servo motors are installed on the EcoFlex model, providing smooth and accurate cutting and engraving performance.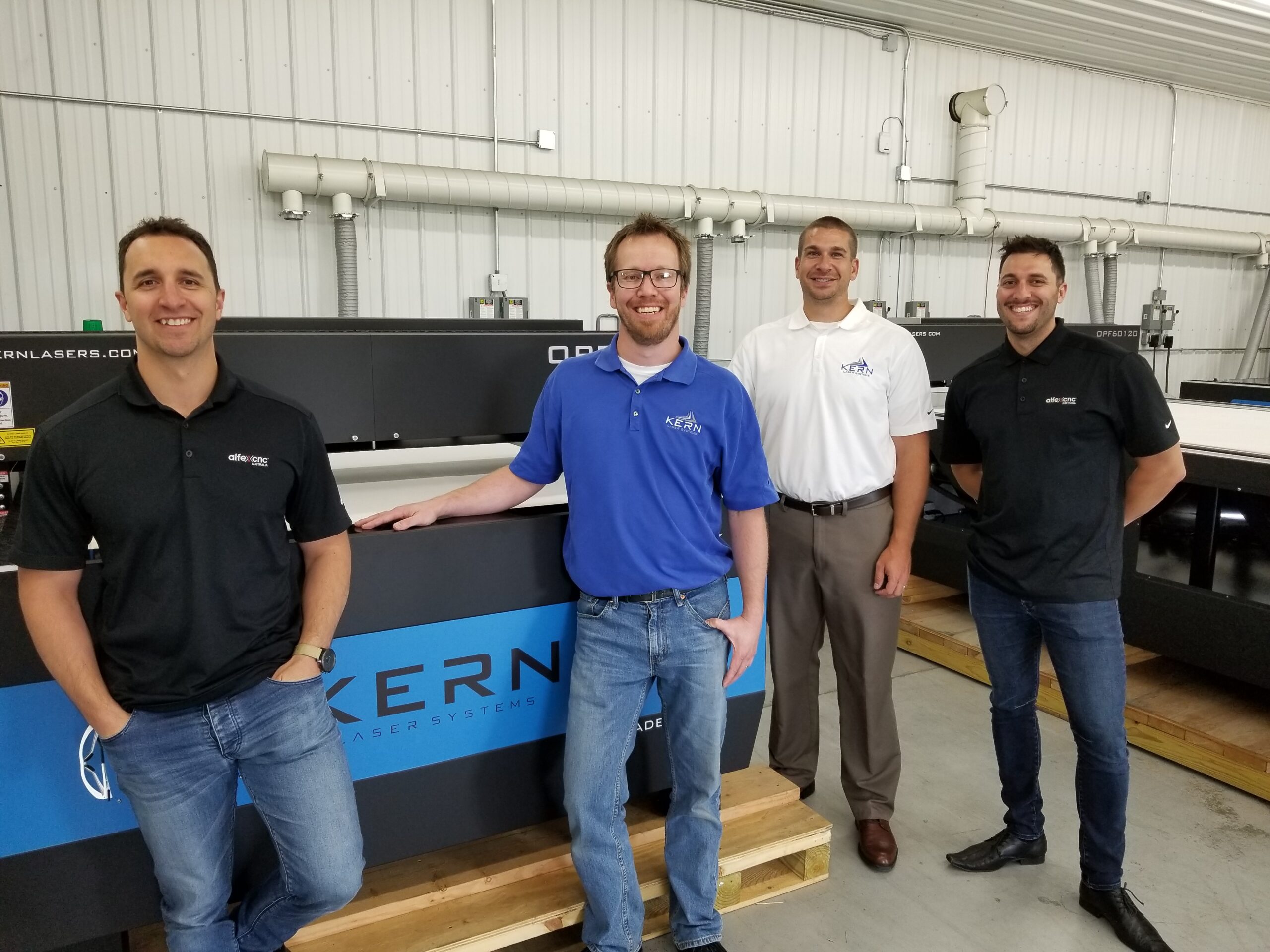 Training Program
A 2 day training course at Kern's factory is included with each system. Kern's knowledgeable staff will cover safety, maintenance, operation and applications.
Click, drag, and zoom for a 360 view of the EcoFlex.
The K-Vision Camera package is a fully integrated hardware and software solution allowing fast and accurate cutting of printed materials.
This process starts with a nozzle mounted camera which automatically measures the dimensions between registration marks on printed materials. The system then uses these measurements and the registration marks of the original cutting file to compensate for distortion and rotation. The slight adjustments that k-vision makes to the cutting file results in a perfectly matched cutout in the material being processed. The entire camera system can be easily removed and stored in a protective box when not in use.
To learn more about the K-Vision Camera package please watch this video and visit our K-Vision Camera page.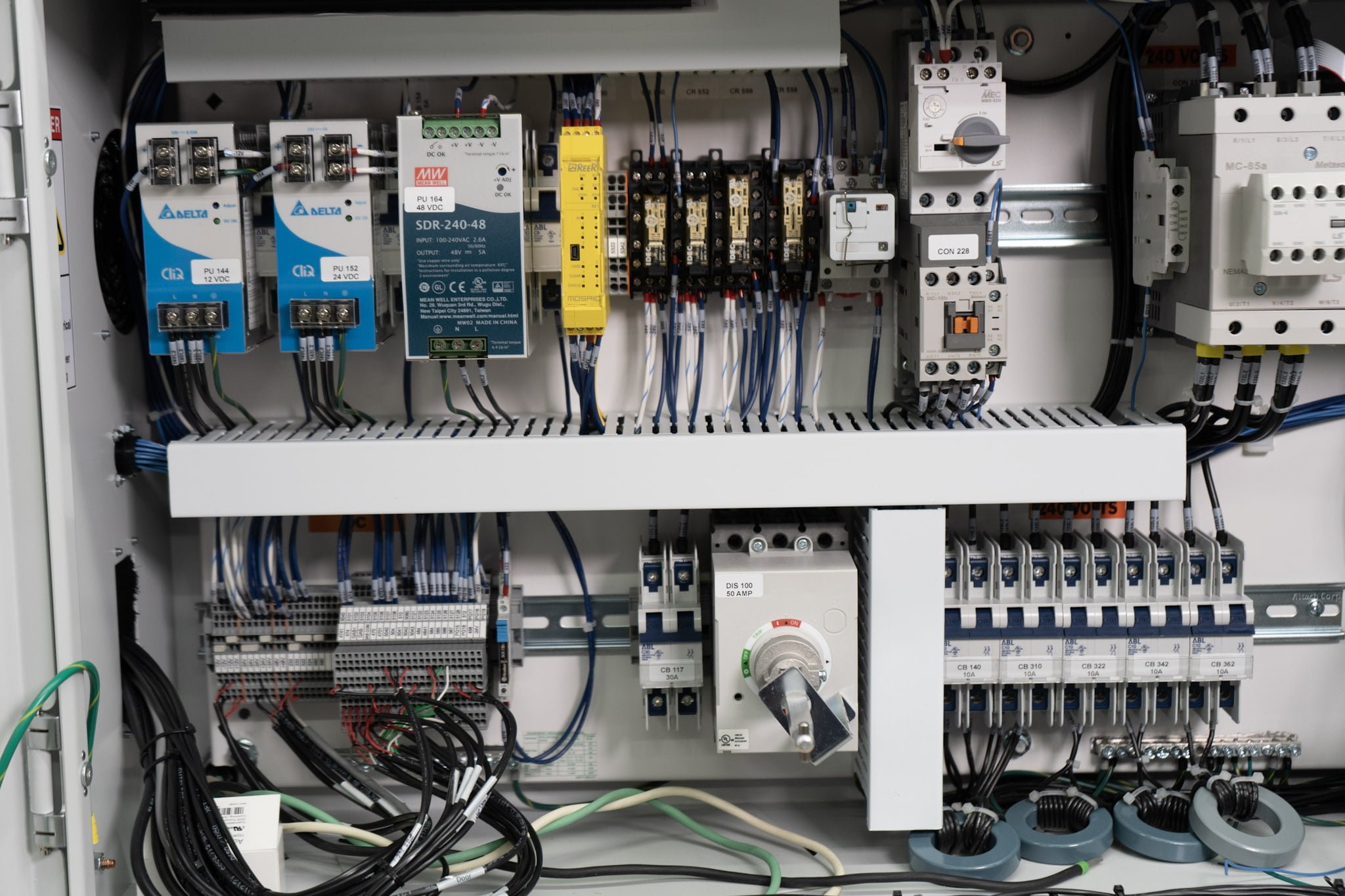 UL Electrical Panel
A UL certified electrical panel is placed on each laser system which turns on and shuts down components of the laser system. CUL and CE approved machines are available by request.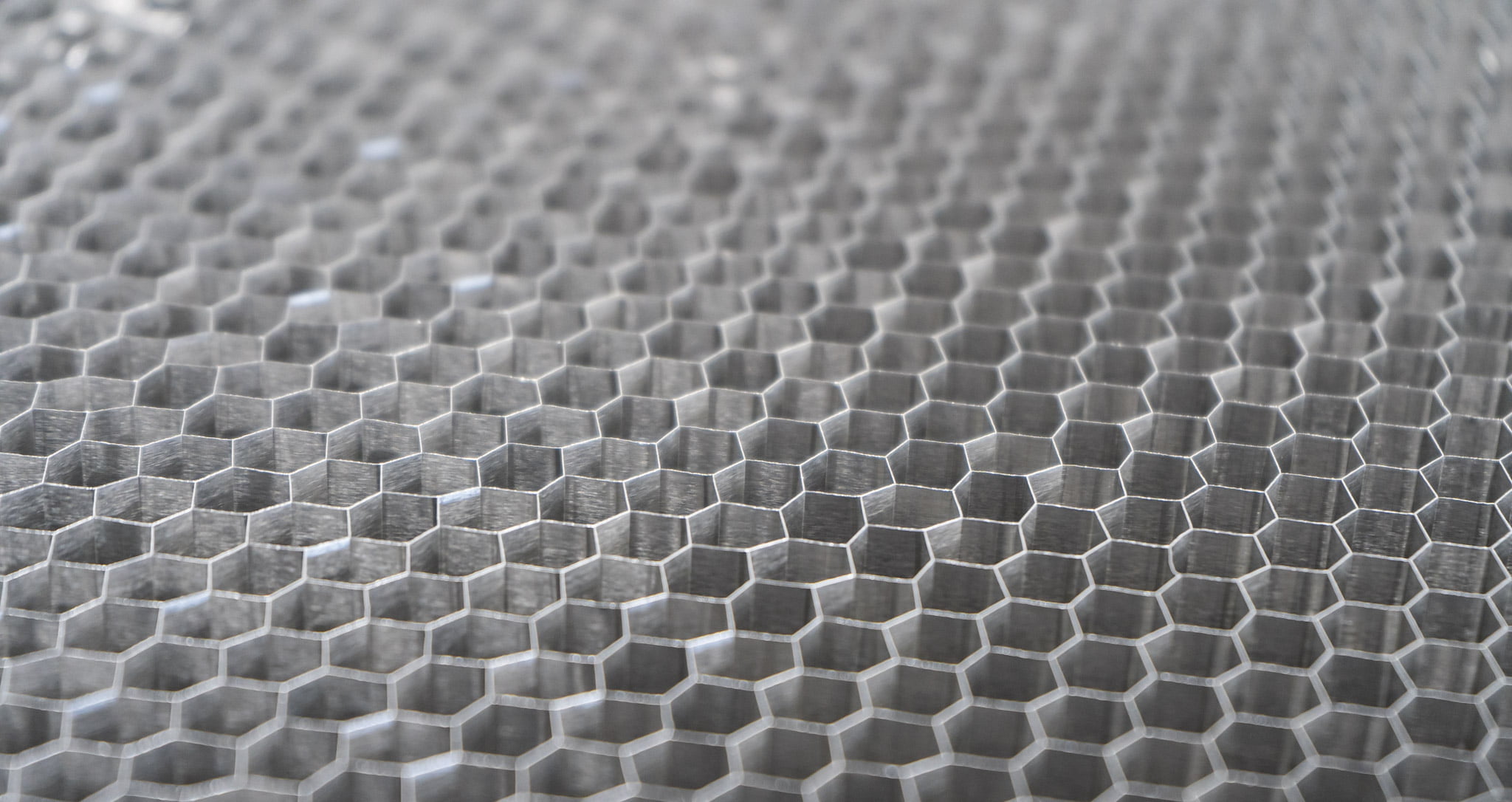 Honeycomb Bed
A durable aluminum table structure is inserted into the bed, maintaining a flat work surface. The honeycomb cells allow for a down draft table and also ducting smoke and debris into the bottom table chamber.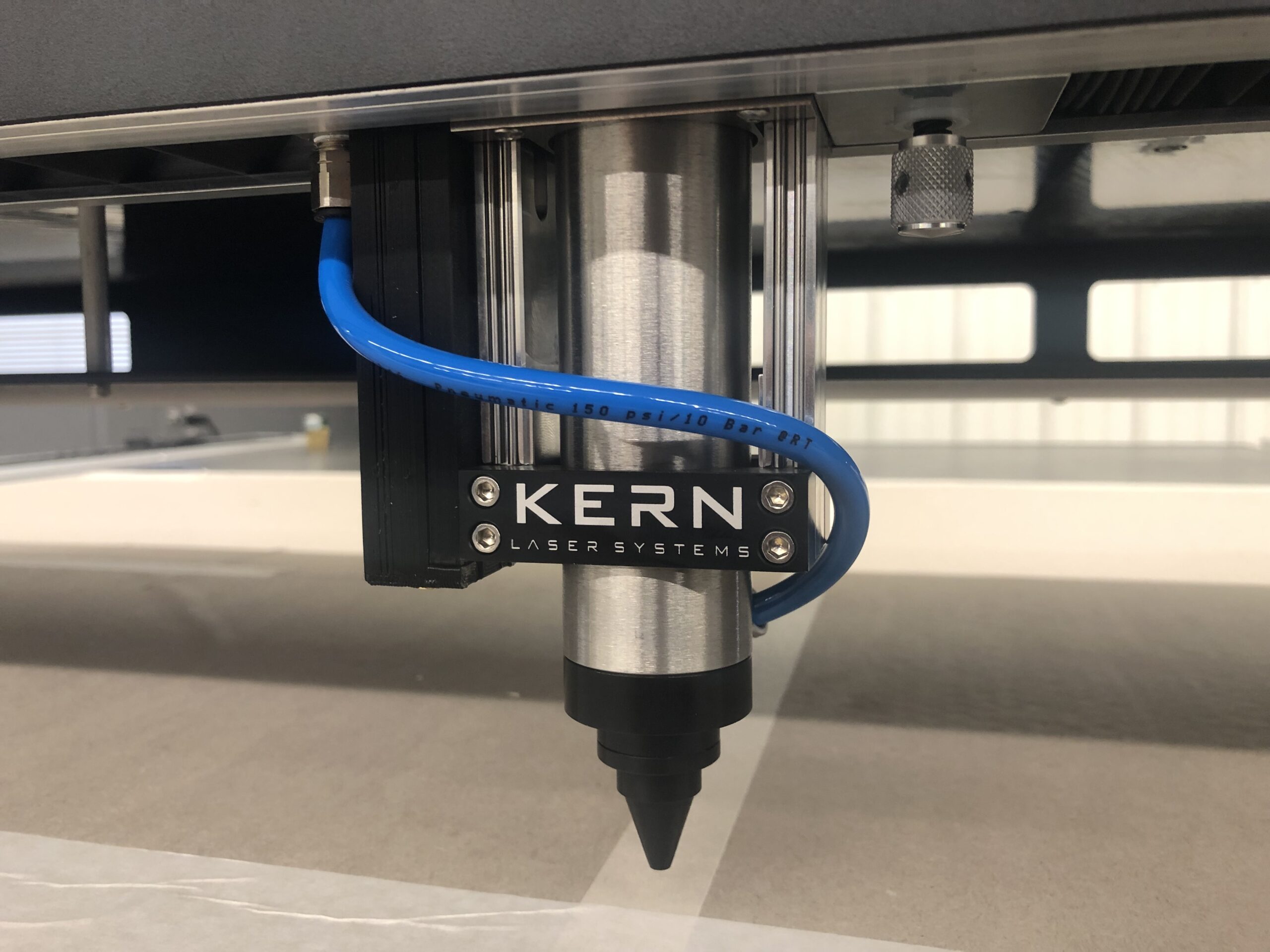 2.5" S-FOCUS Lens Assembly
A great all-around processing head equipped with a high-quality optic. The assembly features an assist air which pushes air out of the nozzle, protecting the lens from smoke and debris.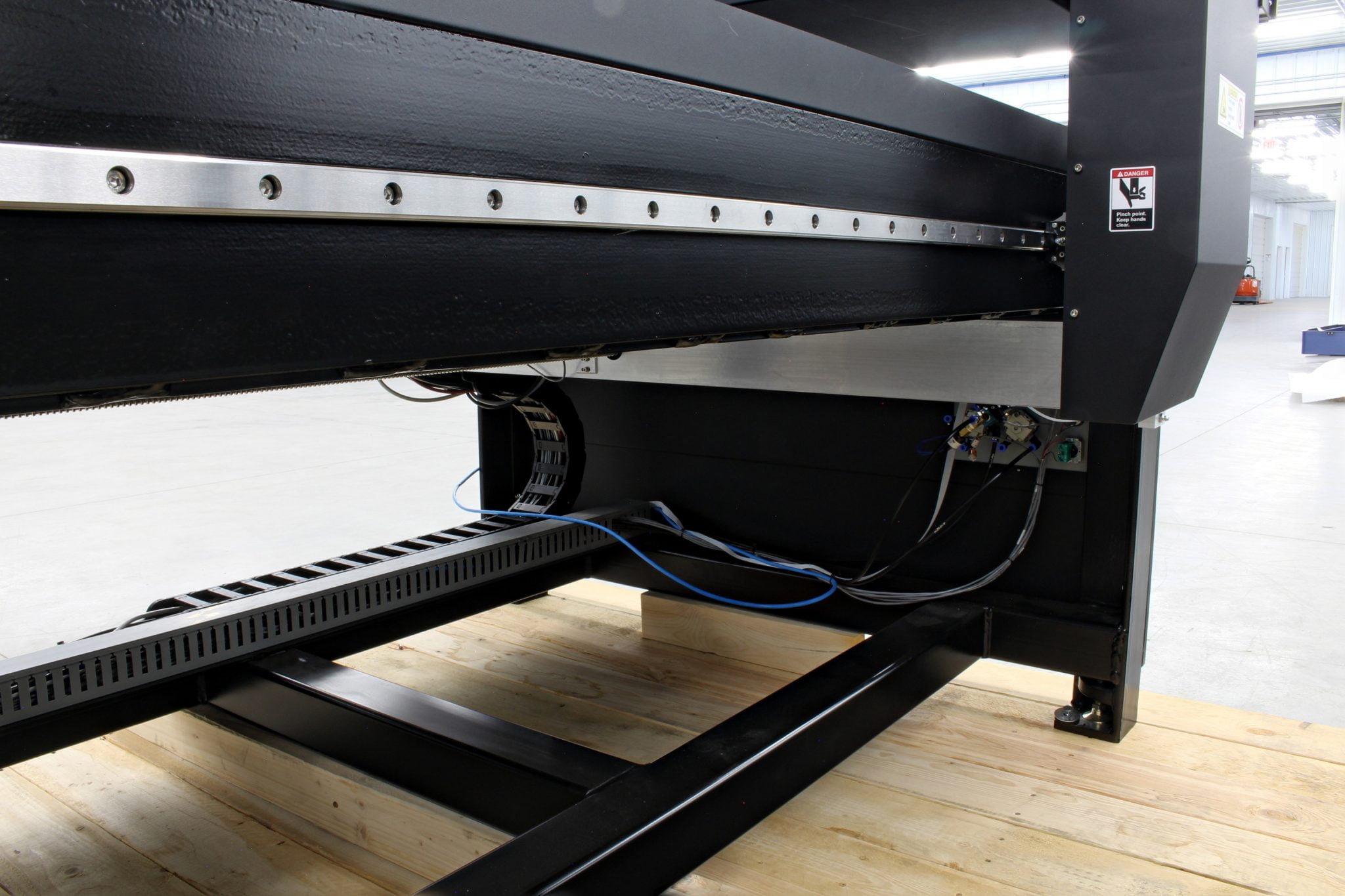 Solid Steel Chassis
The EcoFlex is built around a precision-machined, heavy-duty steel weldment as the machine base. The one-piece weldment allows for the machine to arrive fully assembled, greatly reducing installation time.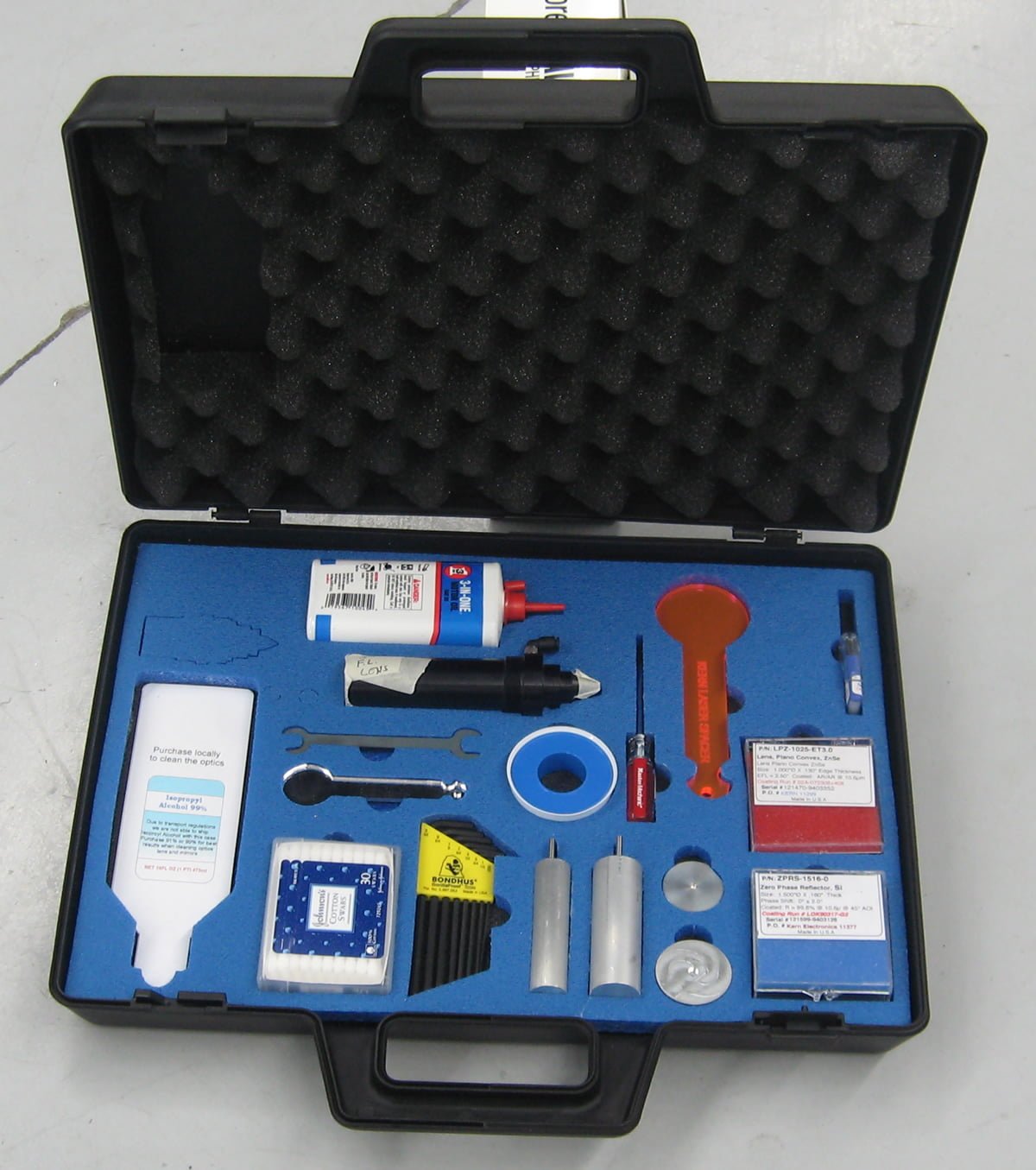 Laser Tool Kit
A kit with commonly used tools and consumables makes system maintenance fast and convenient. The kit includes a foam padded box with cutouts for each tool, making it easy to identify missing components.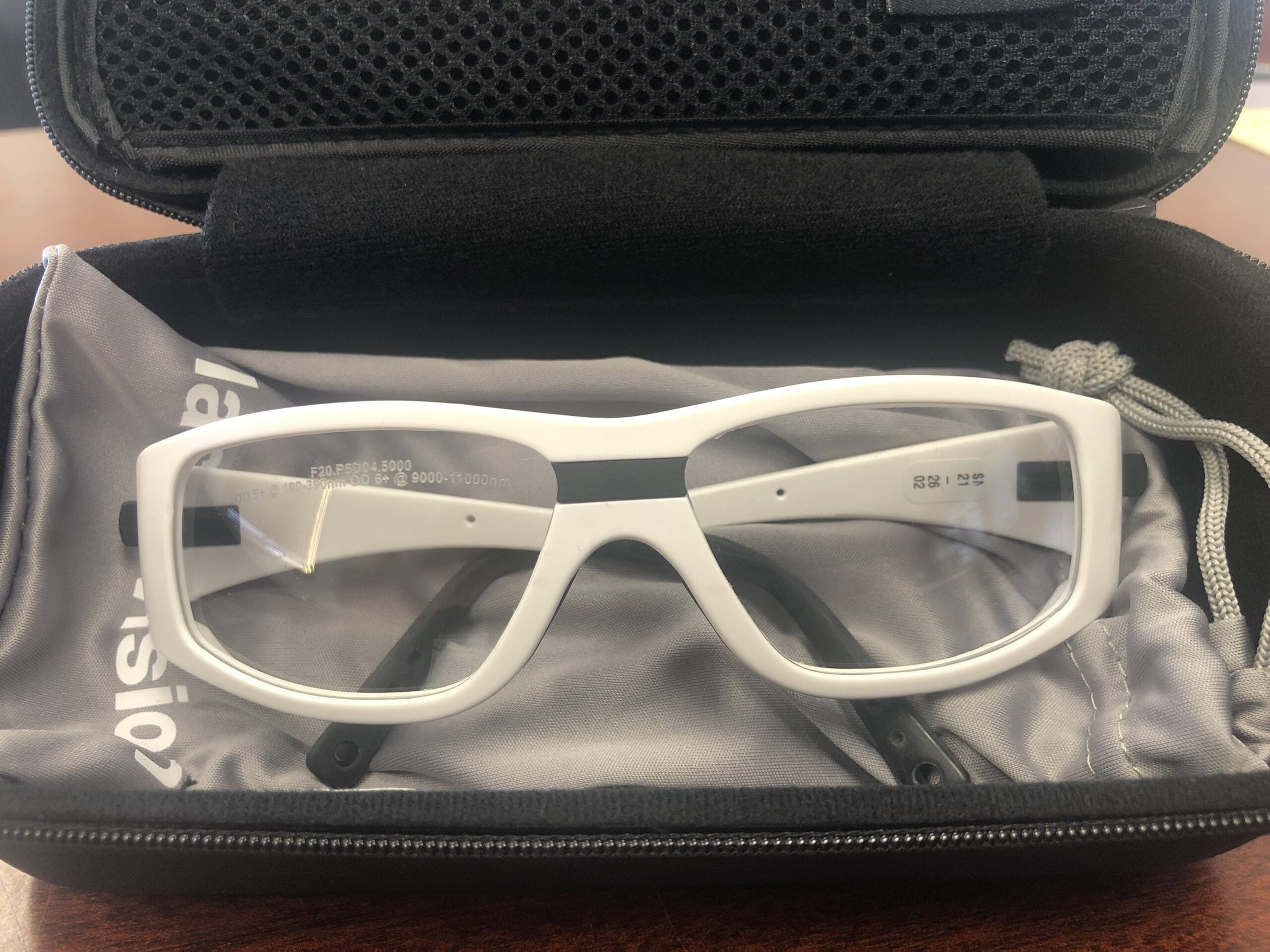 Laser Safety Glasses
Two pairs of Laservision laser safety glasses are provided which each CO2 machine. This eyewear is rated OD 6+ @ 9000-11000nm, offering protection from Kern's full range of CO2 laser systems.
ABOUT KCAM LASER SOFTWARE
KCAM® is a laser cutting and engraving software package developed by Kern's in-house software development team. Through years of research and customer feedback, KCAM has developed into an industry-leading laser control software.
KCAM can be linked with popular design softwares such as CorelDRAW®, AutoCAD® and Adobe Illustrator®, allowing for hundreds of file types to be processed.A convenient user interface provides operators with complete control of the laser systems cutting and engraving parameters. Kern's customers have access to the latest KCAM software upgrades from our website.
Whether you're cutting thick acrylic or a thin delicate textile, be ensured that KCAM will provide you with the laser control required for quick and accurate results.
Kern has teamed up with Geneva Capital to bring you great new finance options. Financing makes it easy to get the equipment you need, while experiencing the benefits and tax savings of leasing.
Case Study - Laser Etch Technologies, Buffalo, MN
Owner Tim Pawelk of "Laser Etch Technologies" roots run deep with Kern Laser Systems. A customer since 1999, Laser Etch currently uses four Kern lasers that have been instrumental in achieving worldwide attention. Such projects included teaming up with renowned Tibetan artist Rinchen Dorgee. Dorgee was instrumental in the creation of the throne the Dalai Lama used during his visit to Minneapolis/St. Paul in May of 2001. The throne was also recently used for His Holiness when he visited Minneapolis this year to celebrate the Tibetan New Year.
Around Minnesota, Tim has also done amazing work.  Most notably, his wood etching and engraving can be seen in the Legends Club area located at Target Field, the home of the Minnesota Twins.
Baseball fans would recognize Pawelk's grand slam work located at Target Field, home of the Minnesota Twins. This creative wonder that includes both etching and engraving can be seen in the Legends Club and press box areas of the stadium.
Pawelk allows that the Kern Laser Systems has provided him with the needed tools to think outside the box and grow his business through the wide range of capabilities found in a Kern laser.
He has been able to do a variety of projects with his Kern Lasers that he's sure he wouldn't be able to do with the use of some of the competitors' laser systems.  Some of his projects have drawn attention not only in the United States, but also worldwide.  In 2001, Tim Pawlek and Laser Etch teamed up with renowned Tibetan artist Rinchen Dorgee.  Rinchen was the main artist involved with the creating of the Dalai Lama's throne his visit to the Twin Cities in May of 2001.  The throne was recently used for his holiness when he visited Minneapolis this year to celebrate the Tibetan New Year. (Insert pictures of the throne)
To hear more about Laser Etch's projects, as well as their experience with Kern Laser Systems, click on our video link for Laser Etch's exclusive customer testimonial.
President
"I believe that your company is one of the best companies I've known in my 30 years in business. I could see for myself how you build the machines and how much care you put into the building. I was thrilled also of the fact that in order to start the machine there was no need of specialized personnel. I also thank you for the hospitality you have offered me during my stay with you. If today I were to buy another laser machine, definitely buy a laser machine Kern again for sure."
Vighi A. & C. Snc (Italy)
Managing Partner
"Keith from Kern called and said he had a machine we might be interested in and we had a chat. Cabin Digital had a discussion and decided it was time to move on and make the financial commitment and buy a Kern. First impressions "Holy Cow! The Kern folks have a great design, factory and their acts together not to mention the folks are super nice!"
Information Technology Analyst
"Kern laser has provided us an excellent machine, and has supported our needs very efficiently. I would recommend Kern laser to anyone. I was having issues with the laser accelerating out of corners too quickly and creating striations within the cut. Jake Shaw, a tech at Kern Laser, helped me by explaining how the laser operates around corners and then supplied me with effective information to correct the issue based on material thickness. As I previously stated, Kern laser has had the best tech support I have had. I will vouch for Kern and their team at any time."